People frequently ask us what an agency needs to set up or improve their wraparound services. Our first response to this is to consider shooting higher and implementing MiiWrap. MiiWrap is the latest enhancement of wraparound and has been shown to produce better engagement and motivation for youth and families and more job satisfaction for staff. In addition, the preliminary research shows significantly better outcomes for MiiWrap when compared to high fidelity wraparound. 
MiiWrap, like a fine wine, gets better with age. The longer your agency has been providing high fidelity MiiWrap in your community, the easier it is and the better it works.  That is because, over time, you will build:
more connections with and champions at partner agencies
a stronger reputation of follow through and success in your community
a growing cohort of skilled facilitators, support partners, and coaches
more options for your families because of all of the above
None of this happens overnight. Many agencies start new programs that have no clear path to wean themselves off of expensive external or national consultants and pricy programs. That means that when the funding source dries up or the grant is over, many times the new service does too.
In answer to the original question, "how can we set up or improve our MiiWrap services," we've seen that the best programs are built in house. Hiring an outside consultant to come in and help get things started may be the quickest and easiest way to jump start an agency towards fidelity, but many agencies don't have the time, money, or desire to pay for this. In addition, repeatedly using outside consultants or coaches is both expensive and ineffective.  The cost issue is obvious, and the effectiveness issue is related to both the lack of full-time onsite support for staff and an outside coach's limited responsiveness to the unique and changing circumstances of the agency. Agencies want to be able to run their own top quality, evidence-based training programs.
The question then becomes about how to create a self-sustainable model for their MiiWrap programs in house. The goals of a self-sustainable program include training new staff to master MiiWrap quickly and efficiently and creating a culture of team-supported learning and continual improvement among all staff.  So, what do you need to support a program that can do both of those things? The short answer is pretty simple, you need:
certified coaches and supplemental coaching materials to teach the initial curriculum and move past the basics of the introductory material
a solid, standardized introductory curriculum (like our MiiWrap eLearning curriculum)
and access to a larger learning community for ideas and resources, (like our national learning community on MiiWrap)
To start, sustain, and continue to improve a good MiiWrap program, you need good coaches. Good coaches take new staff members and turn them into MiiWrap professionals. They take average MiiWrap facilitators and support partners and turn them in to exceptional ones. The difference between a well-trained staff with high fidelity to the model and an unhappy, unsuccessful staff is quality and supportive coaching. Research shows that good coaching can more than triple the training transfer and improve staff motivation, competency, and self-efficacy.
Vroon VDB has a long history of training excellent coaches. Our strategies for coaching are developed out of the latest adult learning research and our 25-year history training Wrapround and MiiWrap professionals. We have developed strategies for maximizing training transfer, decreasing turnover, and turning agencies into learning communities. Many coaches have started their coaching journey through our intensive coach workshops in beautiful Red Rocks, Colorado. More recently, we have developed a more effective way to train coaches and staff through integrated multi-media eLearning curricula. We will begin to offer learning community meetings at Red Rocks as soon as it is safe to travel and be together.
2. You need a strong introductory curriculum
Once you have good coaches in place, the other thing you need is a strong introductory curriculum. Miiwrap is complex – there are many things like mindsets, new skills, phases, actives, and values to learn. As soon as you learn these things, you have to start generalizing them to a wide variety of situations. Because MiiWrap always happens with people, every single case is different. This means that new MiiWrap staff need to learn MiiWrap in a way that creates elastic thinking and deep understanding. A simple PowerPoint with some quick group work isn't going to do it.
The curriculum needs to be multi-modal and built on the principles of proximal development. It should be flexible enough to work with large training classes and individual hires. Students should have ample opportunity to engage in critical thinking, reflection, and hands-on practice. There should be built in reflection, shadowing, behavioral rehearsals, critical thinking, and debriefing.
You don't have to use our curriculum, but it's a really good one.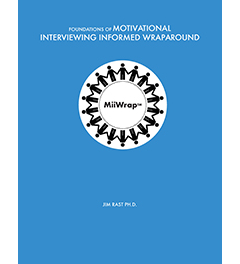 We offer a totally online, self-paced Foundations of MiiWrap eLearning Course. In order to complete the course, staff need our and to be paired with a certified coach. This system is designed to be used to help new staff reach fidelity quickly and with increased self-efficacy. During 2018, we developed the new Foundations of MiiWrap textbook and in 2019 began the development of the virtual training curriculum for MiiWrap staff which was pilot tested in late 2020. Early assessment shows significant improvement in the amount and retention of learning and transfer to actual use with youth, families, and teams. A program with certified coaches and access to the eLearning curriculum is poised to produce high fidelity and continually improving MiiWrap.
3. You need a learning community
No person or agency is an island. Two heads are better than one. Choose your cliché – the point remains the same: having more committed, experienced people in the discussion creates more choices and better outcomes. It works for families, which is why we have team meetings. And it works for MiiWrap providers, which is why you need to belong to a learning community.
Learning communities are spaces to share ideas and resources (like the fabulous new group coaching activity Sarah just thought up and then shared with everyone).  They offer a place when you can bring your thorniest problems to a group of likeminded experts. Members can offer each other support, affirmation, and a fresh perspective.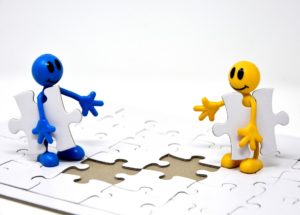 You can build your own learning community from scratch. However, you should know two things about that: 1) it's a lot of work initially and ongoing, and 2) if you start it up, you might always be the most experienced person in the room. That is not ideal for a learning community.
Another option is our Vroon VDB learning community. All certified coaches become members, which means you are tapped into the leading experts in MiiWrap all around North America. We have an online hub with resources and discussion boards, and we will be hosting live learning community meetings once the pandemic is well and truly over.
Once you have identified and trained up your coaches, selected and implemented an introductory curriculum, and joined a learning community, you will have all the tools you need to sustain and grow your MiiWrap program indefinitely. No pricy consultants required. You will be well on your way to creating a real and lasting difference to some of the hardest hit families in your community.