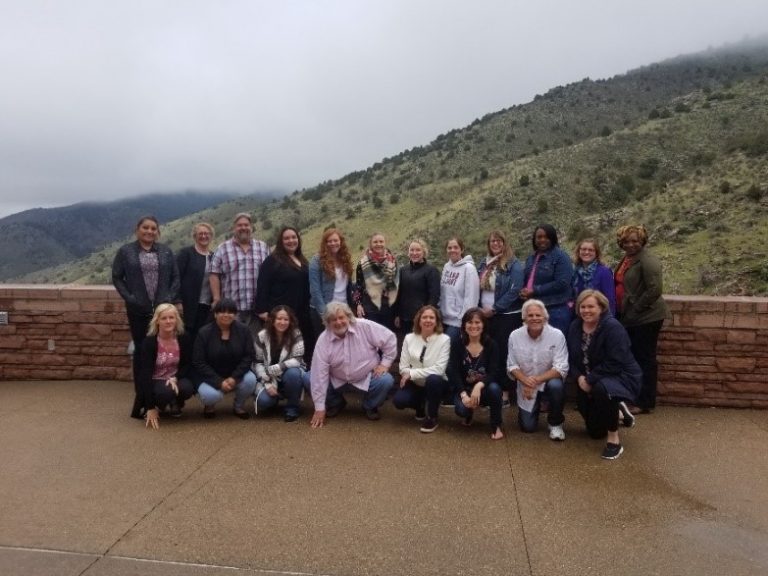 Vroon VDB provides three general types of training related to MiiWrap implementation.The first are the basic trainings for all levels of staff that are offered nationally at Red Rocks (Morrison, Colorado) in the spring through fall and in Southern Florida in the winter, on site for agencies and groups of agencies that have enough staff for the training that it makes more sense for us to travel to you than sending all your staff to us, and online. These trainings are for people who want to learn MiiWrap or how to coach, train and certify MiiWrap staff. These include the four-day Foundations of MiiWrap training that teach staff, coaches and supervisors how to do MiiWrap, Coach/Trainer training which teaches coaches and supervisors to train, coach and certify staff to do MiiWrap, and Process Mentor Training to train and certify coach/trainers and provide community consultation in MiiWrap implementation. The second are advanced wrapround training that support current Wraparound facilitators, support partners, coaches, supervisors and support partners to enhance current Wraparound to incorporate MiiWrap. These two trainings will be offered nationally at Red Rocks and Southern Florida and can be scheduled for local site training. The third are specialized trainings offered to states or communities on additional topics that support system of care development and MiiWrap implementation.
The basic training: Foundations of MiiWrap
This comprehensive training curriculum covers the core skills of implementing high fidelity MiiWrap. Vroon VDB has developed and tested this basic curriculum which supports MiiWrap implementers to both understand, problem solve and practice using the MiiWrap Mindset, Principles, Theory of Change, specific engagement building relational communication skills, specific motivation and self-efficacy building behavior change skills and to practice the core behavior change activities of the process. The training is based on the Vroon VDB textbook Foundations of MiiWrap. Training is done for all staff positions at the same time so that each understands the other's roles and how they work together to support youth and families. The training for each staff person includes completion of activities that are individualized to the specific MiiWrap staff roles. This training is offered several times a year in Colorado and beginning in January 2021 in an online format. The Foundations training can also be scheduled to be provided at local sites, contact us for more information.
The enhanced training: MiiWrap for Wraparound staff
This three-day training builds on the current knowledge of experienced Wraparound staff to present the rationale and show them how and practice using the Mindset, relational communication skills and change skills within the context of the enhanced MiiWrap behavioral change activities. The training focuses on how the enhanced model can address common challenges with Wraparound implementation such as:
engaging and maintaining engagement with those hard to engage youth, parents and team members
identifying and responding to resistance to create engagement and commitment
motivating people who do not want to or are ambivalent about making change and following through on plans
The training takes the students through the enhanced process and includes practice solving these common problems and other challenges identified by the students themselves. This training gives current staff a whole new set of tools to be more effective guiding the MiiWrap process.
As the local staff become more competent at the delivery of the MiiWrap process, they need more advanced training. Vroon VDB has developed a series of over 30 trainings on delivery of high fidelity Wraparound and MiiWrap when dealing with diverse populations, key problem behaviors, and advanced Wraparound challenges. Vroon VDB staff not only deliver these trainings, but also teach local trainers to deliver these highly interactive 2- to 4-hour trainings. In addition, Vroon VDB currently offers more than 50 advanced training topics that can be done in single full day trainings or combined to provide multiple topics in a single day. Contact us for specific concerns and to discuss these workshops.
Our goal is to increase the availability of high fidelity Wraparound and MiiWrap to youth and families who need it. We do this by offering trainings, workshops, consultations, and certification to help agencies provide high quality, high fidelity MiiWrap. At the core of all our training, coaching and community building efforts are our textbooks. They contain the basics, craft knowledge, activities, personal and professional wisdom accumulated over decades of Wraparound and MiiWrap experience, and everything you need to certify staff members in particular Wraparound and MiiWrap positions. For agencies looking to increase their training efficacy and retention, we also offer a complete set of training DVDs that take a family all the way through the Wraparound process and are preparing a companion set of videos for our new MiiWrap Textbook.
Foundations of Motivational Interviewing Informed Wraparound
This 400 page textbook integrates Motivational interviewing with Wraparound and will replace the Foundations of Wraparound textbook to teach the enhanced Wraparound model. It is designed as a textbook for entry level staff and a reference book for current Wraparound staff making the enhancing transition to MiiWrap. The book includes a description ad explanation of the MiiWrap Mindset and Principles and how to use them to guide decision making while implementing and coaching MiiWrap. The book is arranged around the behavior change activities following three families and one single adult with mental health and substance abuse challenges through the MiiWrap process. The purpose of each activity is described in terms of the mindset and principles and example dialogues show the process of using the relational and change communication skills to implement the process to build and strengthen engagement and the working partnership, to help the family identify and develop focus for their vision and behavior change needs, to support increases in motivation and address resistance and ambivalence.
The updated coaching manual builds on the Wraparound coaching functions and adds specific strategies for coaching MiiWrap and individual and group coaching strategies to develop the Mindset, Relational Communication Skills. Behavior Change Relational Skills that make MiiWrap more effective in engaging, motivating and getting outcomes for youth and families.  This includes all materials for doing MiiWrap staff certification and using a recertification process to grandfather and then build skills for currently certified staff. Available Spring 2021.
Vroon VDB creates high quality, research driven textbooks for each of the core professional Wraparound positions. These textbooks represent decades of Wraparound learning and experience, and are at the core of the certification process. They are designed to be used as self-paced primary knowledge sources, as the central element for a group coaching class, or in peer-to-peer coaching. Each book comes with exercises, group activities, reflection questions, and certification skill demonstration guidelines. For extra training efficiency and support, consider the textbooks in conjunction with the Miriam's Family Wraparound Training DVD set.
The Foundations of High Fidelity Wraparound Practice
This 450 page coaching and training book is designed as a textbook for entry level Wraparound staff. It includes detailed descriptions of how to deliver a high fidelity Wraparound process as defined by Vroon VDB Action Steps and Theory of Change.  The book comes with separate exercise books for training and post-training performance-based certification. There are specialized versions for Wraparound facilitators, family support partners and youth support partners.
The Wraparound Facilitator Coach Textbook
This 400 page textbook describes the process and 12 functions for the Wraparound facilitator and support partner coaching and includes textbook, training exercises, and certification materials.
Miriam's Family Wraparound Training DVD Set
The Miriam's Family Wraparound Training DVD set shows a complex family going through the entire wraparound process, with videos for all the key steps and meetings. Contact us directly to order.
1-2 sets =    $500
3-5 sets =    $400
6 or more =  $300