For the past 20 years, we've provided in-person training to all levels of Wraparound and MiiWrap professionals. While in-person training has many benefits, we've come to understand the complementary benefits of online training. This year, we developed an online course to train staff in providing MiiWrap. MiiWrap is the next evidence-based iteration of Wraparound, what we believe is a natural progression that addresses common problems of engagement, resistance, and low motivation. Not only does MiiWrap represent the evolution of the service process, but so does the way we teach it.
The new MiiWrap Foundations course will be offered online with virtual coaching. The course provides consistent teaching to all staff and consistent structure to all coaches. Online learning addresses many challenges of traditional training models. It gives more flexibility to and requires less time of coaches. It allows coaches to target problem areas in staff learning. It allows staff to undergo the course at a time relevant to the agency. And it provides abundant opportunity for MiiWrap practice. In this blog, we'll answer some questions about the online MiiWrap Foundations course.
How is this different from in-person training?
In-person training provides a concentrated way to teach staff the foundations of MiiWrap in a short period of time. A certified trainer provides consecutive full days of MiiWrap teaching and practice to a group of staff.
The online MiiWrap Foundations course moves all components of MiiWrap training from an in-person presentation, to a virtual dashboard. Each lesson includes learning objectives, concept overviews, opportunities to practice skills, and content quizzes. The lessons are used in conjunction with the Foundations of MiiWrap textbook. The virtual dashboard tracks course completion and produces indicators of progress. Much like the dashboard in a car, which measures distance, gas level, and engine health. Each trainee is assigned a MiiWrap coach. The coach reviews the dashboard and identifies areas where the trainee excels or needs more practice, providing personalized feedback.
Why online?
Online training has some distinct logistical advantages to in-person training. First, staff do not have to travel to be trained. Second, online training is on-demand, no waiting for an in-person training to be scheduled. The trainee may go through the course at whatever pace they and their agency are comfortable.
Changing the venue of learning also offers opportunities for enhancement. The online MiiWrap Foundations course trains using mediums for all types of learners. There are videos for visual and auditory learners, reading for text-based learners, and practice for the kinesthetic do-ers.
Comprehension is checked throughout the course using quizzes and coach debriefings. And the course is designed to streamline and direct coaching, reducing coach burden for new staff training.
What does the course look like?
The course is divided into modules that correspond to the 18 chapters of the Foundations of MiiWrap textbook. Each module contains an overview, a shadowing activity, a behavioral rehearsal, a quiz, and coach debriefing. The virtual dashboard shepherds staff and coaches through MiiWrap training. Staff and coaches can both track what was completed and what needs to be revisited. Coach dashboards include additional information about trainee performance and provide a platform to communicate about lesson-specific concerns.
The shadowing activities provide an example of actually providing MiiWrap to a mother and her children. The videos bring the concepts to life and require the students to interact with the videos to demonstrate their understanding of the Mindset and interactional skills of the process. They show all of the activities of MiiWrap with the family and the team.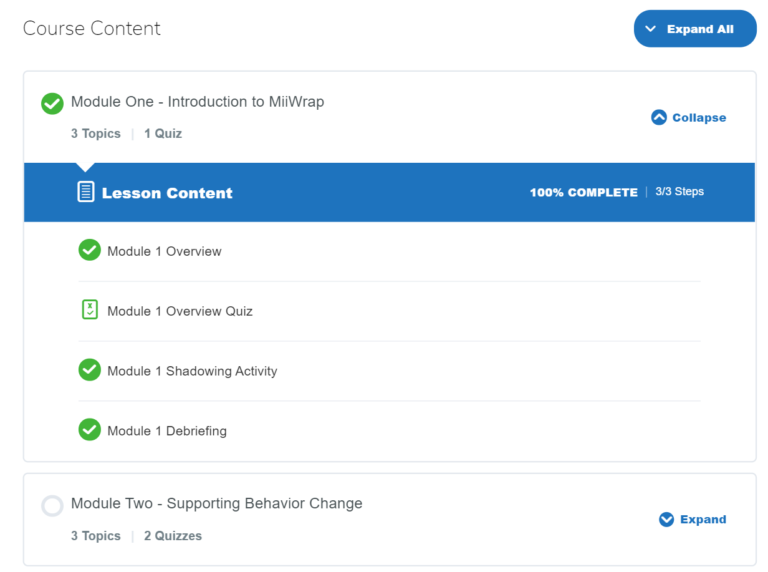 Who is the course for?
The online Foundations of MiiWrap course is for all professionals who are looking to learn MiiWrap. This is a foundations course, so it teaches the skills necessary to provide MiiWrap to families. The course is appropriate for current Wraparound professionals as well as those with no Wraparound experience.
The course is also the first step in the coach and process mentor journey. Current Wraparound coaches who want to coach MiiWrap will need to complete the Foundations of MiiWrap training before pursuing MiiWrap coaching certification. Current supervisors and coaches with no Wraparound experience must also go through the foundations course.
Agencies that certify their own MiiWrap coaches can save time and money, as well as ensure they provide the best MiiWrap services to their clients.
How do I sign up for the course?
Coaching is still an integral part of the training process. Therefore, the first people who will take the Foundations of MiiWrap course are coaches. If you are interested in brining MiiWrap to your organizations, we have coach cohorts starting in January and running through the spring. Once your organization has a trained coach, staff can begin the Foundations of MiiWrap course.
Still have questions? Feel free to contact us.